Projects
NDT Eddy Current Crack & Hardness Sorting Test System for Wheel Hub ( Blue Star, Engg & Electronics)
This System is designed for fully automatic NDT Eddy Current test system for detecting open surface defects / Cracks & sorting on the basis of surface Hardness variation in wheel hub component ( bearing area).
Advantages of the System :

Fully Automatic Man less System


Capable of Surface Crack Detection by Eddy Current Method which are Not Visible Bare Eyes


To increase productivity, to reduce scrap and rework, to increase production capacity, to reduce costs and to obtain tighter part quality standards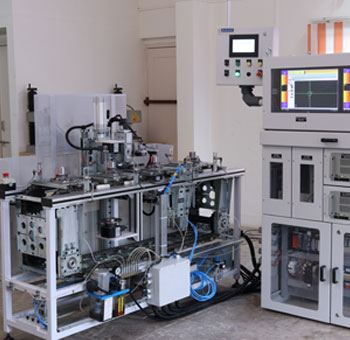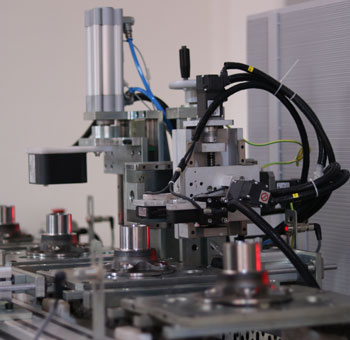 Crankcase Piston Grade Marking M/c (KOHLER Lombardini India Pvt. Ltd.)
This System is for Marking of Piston Bore Grades on the Crank Case for 2-Cyl, 3-Cyl & 4-Cyl. The Bore grade gauging system is integrated with this marking system for correct bore grade identification during Piston Assembly.
Advantages of the System :

Communication Facility with Grade Inspection System and Software


Automatic Marking of Piston Bore Grade w.r.t. No of Bores


Avoid Errors of Manual Marking


System Capable of Marking 3 Different Variants (2 Cylinder, 3 cylinder)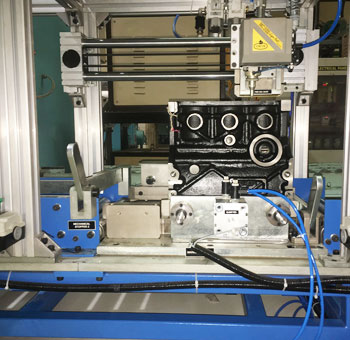 ID Plate Marking System with 2D Barcode Scanning (ZF Steering)
This system is designed for marking of aluminum name plates for different models of steering gears assemblies. This system is capable of marking of alpha-numeric , 2D & QR data as per inputs provided also it is capable of scanning & reading 2D data & keeping the back end data for future use.
Advantages of the System :

Auto loading and Unloading system


Reduced 50% cycle time w.r.t earlier marking system


Man less Operation


High Speed Marking System with Incremental Serial No.


2D Code Backup for MES/SAP uploading for Traceability (5 Variants)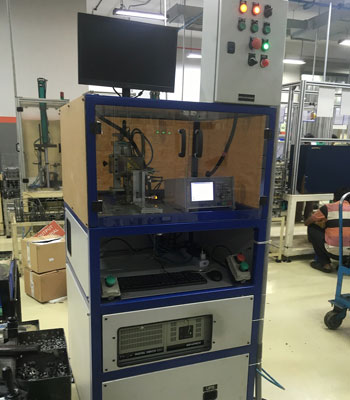 Engine Assembly Marking System for Export (FIAT AUTOMOBILE - Ranjangaon)
This System is for Marking of VIN number on engine assembly for export vehicle at pick up station. The customized software receives the sequence number from MES System , which is analyzed by the software & the software generates the unique number to be marked, with indication of specific marking fixture for selected engine model.
Advantages of the System :

Chassis no. marking on engine assembly for export vehicles


Poka-Yoke for marking on model wise engine assembly


This system comprises of marking machine Poko-Yoke selection by means of customized marking software which
integrates with MIS